OUR SAFETY COMMITMENTS

First and foremost, we want to express our sincere concern for everyone who has been impacted by the coronavirus (COVID-19). The Cheesecake Factory is dedicated to being a great place to work and to taking great care of our people. The health and wellbeing of our staff, managers and guests is our top priority and has been our guiding principle throughout this unprecedented time. We have been following the guidance of the CDC and our local health departments and will continue to do so throughout this evolving situation. Before arriving onsite for an interview, please discuss our health and safety protocols related to interviewing and working at our restaurants with a manager.
FIND YOUR TEAM
THE "SO CHEESECAKE" EXPERIENCE
WE BELIEVE IN MAKING BIG THINGS HAPPEN
We're known as a great place to work because here, you can upsize your skills, build your confidence, make great friends and feel proud of the work you do – all while feeling supported by your teammates.
NURTURE BODIES, MINDS, HEARTS AND SPIRITS
We're about more than just amazing food. Our commitment to nurturing the wellbeing of our people, guests and communities is the reason we're the only restaurant on Fortune's 100 Best Companies to Work For® list eight years running.
LOVE WHAT YOU DO
We're always celebrating team members who pour their heart into their work. Whether you're a line cook earning our Master Culinarian certification or a server receiving our Commitment to Excellence award, when you love what you do, excellence will follow.
LEARN HERE.
GROW HERE.
Grow your career in a place where we're committed to being our best, one where you can learn new skills, share your knowledge, and develop the confidence needed to build your best future.
PRIDE, PASSION
& PURPOSE.
You'll be proud of all the good you do with us, from the memorable moments you create for guests, to the delicious food that reflects your passion for excellence, to giving back to your local community.
MY LIFE.
MY EXPERIENCE.
You have a lot going on, and we're here to support it all with a schedule that fits your life, a work experience that feeds your passions, and competitive compensation and benefits that fuel your future.
GREAT PEOPLE.
GREAT FRIENDS.
We all share a commitment to creating a welcoming environment, one where you'll develop meaningful friendships with a diverse team of great people who support your success.
OUR PEOPLE MAKE US A GREAT PLACE TO WORK
We're proud to be recognized on the Fortune 100 Best Companies to Work For® list for nine years in a row. In 2022, we ranked #58 based on feedback from our people around teamwork, leadership, growth opportunities, values and culture. Learn more
For more than 40 years, we have strived to create a very special place with a rich culture. This award is a wonderful recognition of what our staff and managers have helped us achieve.
- David Overton, Founder, Chairman and CEO
A FEW OTHER AWARDS WE'RE PROUD OF:
EXPLORE OUR NEW RESTAURANT OPENINGS
Experience the excitement of bringing our delicious food and warm hospitality to the next community of Cheesecake lovers.
A SLICE OF OUR HISTORY
Our world-famous cheesecakes started from a newspaper recipe in a basement kitchen.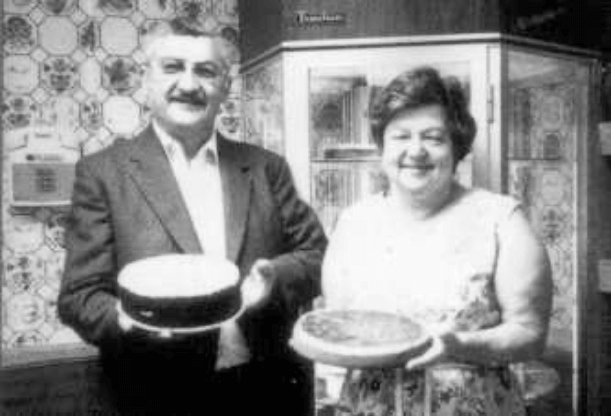 In the 1940s, Evelyn Overton found a recipe in her local Detroit newspaper that inspired her Original Cheesecake. Everyone loved her recipe so much she decided to open a small bakery in her basement kitchen and offer cakes to some of the best restaurants in town, while raising her children, David and Renee. In 1972, Evelyn and her husband Oscar moved to Los Angeles and opened The Cheesecake Factory Bakery, supplying her cheesecakes to restaurants throughout L.A.

In 1978, David was inspired to open a restaurant in Beverly Hills with his mother's cakes showcased in the lobby and a made-from-scratch menu big enough to offer "something for everyone". The restaurant was an immediate hit on opening day with a line out the door that many say has never stopped. Today, with more than 40,000 "so Cheesecake" staff and managers providing a unique upscale-casual dining experience at over 225 locations worldwide, we are proud to be known as one of Fortune Magazine's 100 Best Companies to Work For® and a welcoming place for all.
FOLLOW US